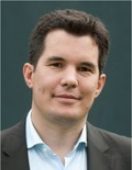 Department of Epileptology and DZNE
Mailing Address:

German Center for Neurodegenerative Diseases (DZNE),
Ludwig-Erhard-Allee 2,
D-53105, Bonn/Germany
Phone:

+49-228 28751605
Email:
Weitere Informationen
Education and degrees
| | |
| --- | --- |
| 2003 | Doctoral degree (Medical doctor), University of Bonn |
Academic Career
| | |
| --- | --- |
| 2005-2007 | Feodor-Lynen-Alexander von Humboldt Fellow, Department of Neurobiology and Physiology, Northwestern University, Evanston, Illinois (Advisor: Nelson Spruston, PhD) |
| 2008-2009 | Postdoc and BONFOR-junior group leader, Department of Epileptology, University of Bonn |
| 2009 | Head of NRW Research group "Dendritic Integration in the CNS", Department of Epileptology, University of Bonn |
| Since 2010 | Parallel appointment as DZNE group leader, Research group "Neuronal Networks", Deutsches Zentrum für Neurodegenerative Erkrankungen, Bonn |
| 2013 | Professor (tenured) – Head of Neuronal Networks Group, DZNE Bonn |
Awards and Honors
| | |
| --- | --- |
| 2009 | Recipient of NRW Junior Research Group funding, Ministry of Education, Research, Innovation and Technology, Northrhine-Westfalia |
| 2016 | ERC Consolidator Grant |
Memberships and professional functions:
* Society of Neuroscience, German Neuroscience Society, Review editor Frontiers in Neural Circuits
Most important publications
Justus D, Dalügge D, Bothe S, Fuhrmann F, Hannes C, Kaneko H, Friedrichs D, Sosulina L, Schwarz I, Elliott DA, Schoch S, Bradke F, Schwarz MK, Remy, S. (2016) Glutamatergic synaptic integration of locomotion speed via septo-entorhinal projections. Nat. Neurosci., Fuhrmann F, Justus D, Sosulina L, Kaneko H, Beutel T, Friedrichs D, Schoch S, Schwarz MK, Fuhrmann M, Remy S (2015) Locomotion, theta oscillations, and the speed-correlated firing of hippo-campal neurons are controlled by a medial septal glutamatergic circuit. Neuron 86(5):1253-64
Siskova Z, Justus D, Kaneko H, Friedrichs D, Henneberg N, Beutel T, Pitsch J, Schoch S, Becker A, von der Kammer H, Remy S (2014) Dendritic structural degeneration is functionally linked to cellular hyperexcitability in a mouse model of Alzheimer's disease. Neuron 84:1023-1033
Müller C, Beck H, Coulter D, Remy S. (2012) Inhibitory control of linear and supralinear dendritic excitation in CA1 pyramidal neurons. Neuron, 75(5): 851-64
Remy S, Csicsvari J, Beck H (2009) Activity-dependent control of neuronal output by local and global dendritic spike attenuation. Neuron. 2009 Mar 26;61(6):906-16.
Remy S., Spruston N. (2007) Dendritic spikes induce single-burst long-term potentiation. PNAS, 104(43): 17192-17197.